Just got an update from John:

These are from Southern Thailand. It is so beautiful over there. I am so lucky to be able to come here. I hope you all are enjoying yourselves, and your having an awesome summer.
Talk to you soon,
~John


Wow! I LOVE THAT SUNSET!




Anyone want to swim with the monkeys?




Green. Kinda reminds me of NNY.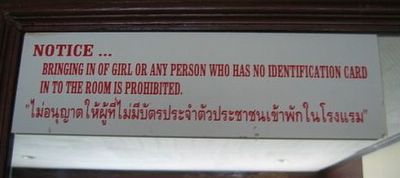 Now, what that sign was about, I have no idea. But ladies, you better make sure you have an identification card! OR ELSE!